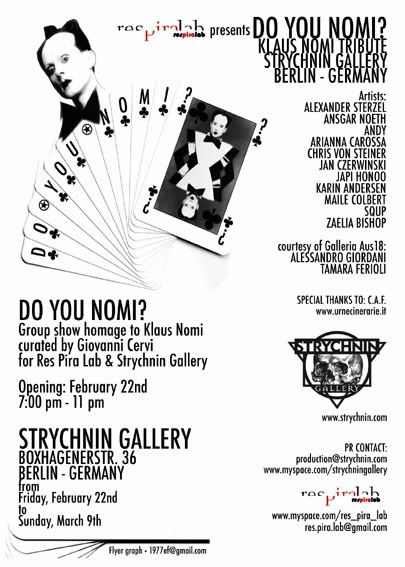 A group exhibition celebrating the art and music of Klaus Nomi, opening at Strychnin Gallery in Berlin, 22 fedruary 2008
Res Pira Lab and Strychnin Gallery celebrate Klaus Nomi in an exhibition opening on February 22, 2008 at Strychnin Gallery (Berlin). The artistic event, curated by Giovanni Cervi for Res Pira Lab, is the continuation of the celebration started with the tribute party held in Parma on the 24th of April 2007, and the Milan Exhibition at Galleria Aus18 in September 2007.
The project involved some 50 international visual artists and musicians so far.
On this occasion, a wide ranging group of artists will be involved:
Alexander Sterzel,
Ansgar Noeth,
Andy,
Arianna Carossa,
Danielle de Picciotto,
Jan Czerwinski,
Japi Honoo,
Karin Andersen,
Maile Colbert,
Squp,
Zaelia Bishop
and, courtesy of Galleria Aus18,
Alessandro Giordani,
Tamara Ferioli.
The tribute to Klaus Nomi results from the need to remember a unique figure after 25 years from his death, a master of scene handling and a sharp performer, an artist able to join the world of fashion, the opera, the disco music and a futuristic rock imagery together. An alien angel lost somewhere between the German expressionist cabaret and a time travel toward apocalypse, an artist creating a brand new way to develop the show, shaking the imagination of his disciples, who continue his style, not only in music.

Klaus disappeared because of AIDS in 1983.
http://www.strychnin.com/
http://www.myspace.com/res_pira_lab